While Society of Three Speeds turns ten next March, my involvement with leading three speed themed bicycle rides in Portland runs longer than that. Today marks ten eleven! years since I first led a Three Speed Ride. 1
It was early 2011 and I was smitten with three speeds. I just got my first proper British three speed, a Raleigh Wayfarer, and I rode that thing everywhere. While we had a Tweed Ride by that point, there was nothing specifically three speed related yet, which I found surprising in the bike-fun capital of Portland. So why not start my own?
And I was motivated: Besides planning a route, I got all fancy and got swag made, I designed a poster and postcards and had it screenprinted–screenprinted! by Man vs Ink. 2 This cost a couple hundred dollars–money that I should have been saving up for my upcoming Cross-Con Trip. But I was jazzed.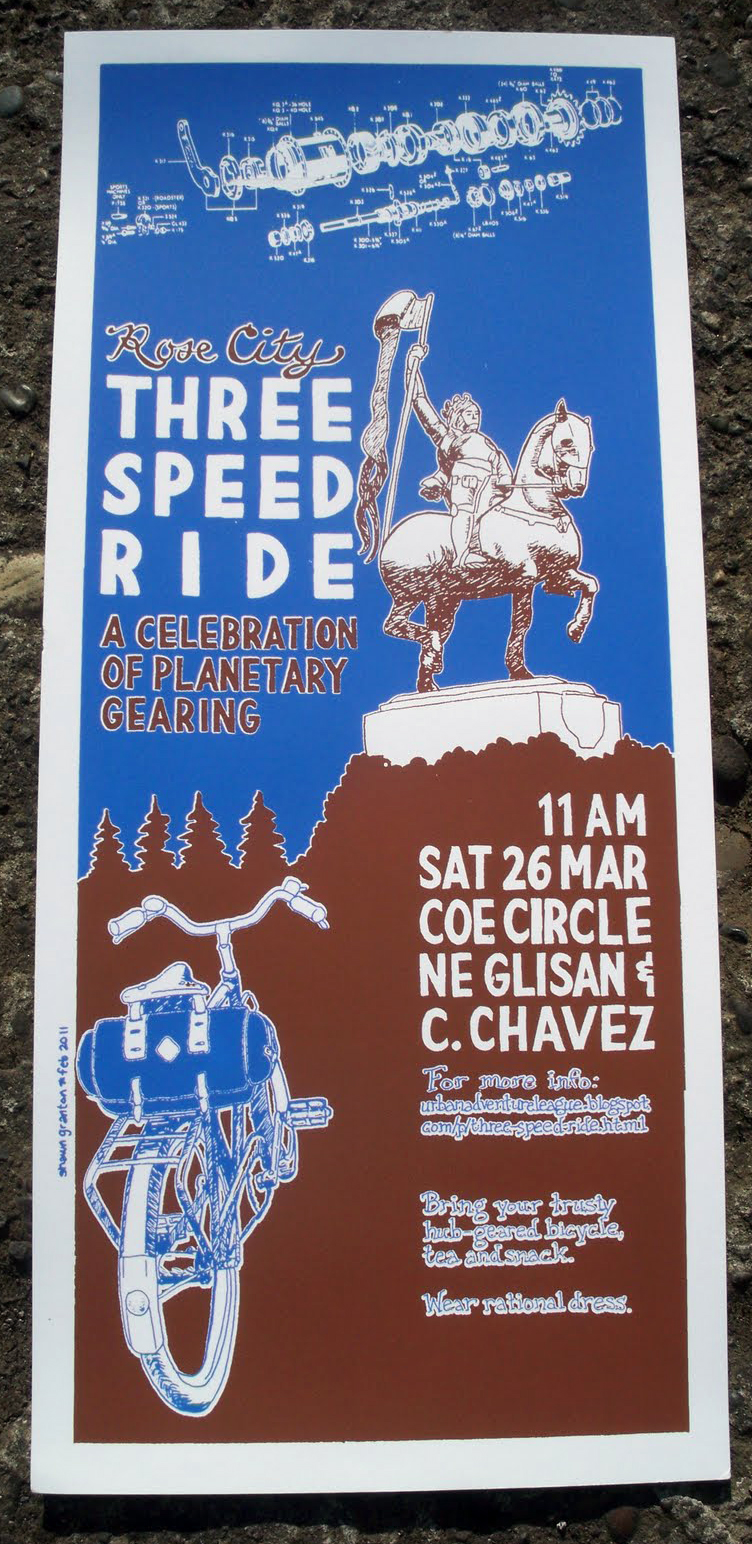 The morning of Saturday March 26, 2011 turned out pretty nice. The meet up point was Coe Circle at NE Glisan St and NE Cesar Chavez Blvd. Twelve folks showed up and we rode north to St. Johns, stopping at Peninsula Park for a tea brew up. And of course I got a flat towards the end.
Overall, it was a successful ride, successful enough so that I wanted to do more. But the Big Tour occupied all of the summer and more, so I didn't do another one in 2011. I did manage to pull off a few in 2012: a very wet and cold one in February, an actual fairly nice weather one in June during Pedalpalooza, and a too hot one in August, which I did not report on. Not a particularly great run, but the seed was planted. The following year I would fully develop the concept and start Society of Three Speeds. What a journey it's been.
This year I'm only doing one ride. While the Society has picked up, doing multiple small three speed rides, even in a city as bike crazy as Portland, is just not sustainable. I'm aiming for one bigger event in October. Stay tuned for info. And thanks for riding along!
You can read a full report of the 2011 ride here.
1 Yeah, I meant to write this last year. Oopsie.
2 Fred was located in Portland then, now he's back in Philly.